FALL 2015 Dates Now Available!

This in depth, comprehensive 85 hour, Yoga Alliance Certified training is for those who want to confidently and responsibly dive into the world of conscious birthing and prenatal yoga and work with this very special population.



At Prenatal Yoga Center, we have developed a system of teaching using our unique three pronged approach to prenatal yoga:

Physical comfort: Highly trained and educated instructors cater to the anatomical, hormonal, and muscular changes which occur normally in the pregnant body by creating sequences which lessen discomfort so students feel better after each class. Classes also preparing the mother both physically - specifically with focus on proper pelvic alignment - and mentally for birth whether that be medicated, natural or cesarean.

Community: We start each class with "circle time", a time where the women introduce themselves, say how far along they are, and discuss any aches and pains they would like to address in class. Pregnancy and postpartum periods carry such enormous physical and emotional changes; and this bonding time creates a springboard for long lasting friendships among students.

Childbirth Education and Advocacy: We interweave childbirth education themes and current birthing trends into our classes. Our intention is that the new mothers will feel more confident and prepared to make conscious, educated decisions during pregnancy, labor, delivery and motherhood.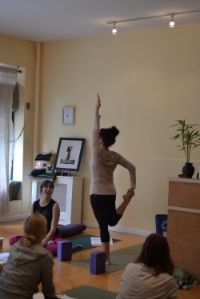 Our teacher training will teach the trainee how to confidently integrate these three components of our thought out and established approach to prenatal yoga. into a well rounded class. We believe that modifying asana for pregnancy is just the tip of the iceberg for a prenatal yoga teacher training. It is important to speak the same "language" as the expect mother and through evidence-based research be able to guide her properly while supporting her in this transitional point in her life. We strongly feel it is the role of the teacher to help create a warm community for the mothers that extend beyond pregnancy, and through the often bumpy road of new motherhood, to a place of vitality, strength and confidence as the role of mother is achieved.


"I wanted to thank you for the amazing experience and learning opportunity over the last few months. The teacher training has absolutely changed my views on birth and I believe has made me a better teacher!"
-Lana Levy MS, RYT, Founder of Just For Today, Nutrition and Yoga For Life

Through this training, not only did I learn a lot of pertinent information regarding pregnancy and birth, I also rediscovered a love of teaching that I have been able to apply to all of my classes.
- Karen Langan, Prenatal Yoga Teacher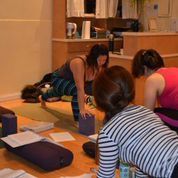 PYC training spans 3 months. In that time, the trainees will experience the following:


Participate in 6 weekend modules
Several opportunities to teach fellow teacher trainees as well as the PYC pregnant community
Attend Childbirth Education 2-Day Intensive
Attend Baby Body Work (Partner Yoga and Massage Workshop)
Observe 10 prenatal yoga classes
Assist 4 prenatal yoga classes and demonstrate hand on adjustments
Finish required reading and assignments
Teach full length prenatal yoga class to PYC student
Basic curriculum
Module 1- Anatomy, Physiology and Therapeutic Applications, particular focus on the abdominal changes and pelvic floor changes
Module 2 - Structuring Your Class with a special focus on stabilizing the pelvis and asanas that encouraging optimal fetal position to aid in the birth process. Also, in depth look at asanas and pranayamas to encourage and discourage and modifications of the different trimesters
Module 3- Labor, Delivery and Interventions
Module 4- Postnatal Yoga and Teaching the Community Class. In this module, we invite the PYC community into our training so the teacher trainees can practice teaching our pregnant students.
Module 5 - Screening of "Business of Being Born", discussion of current birth trends and how to communicate unbiasedly. Trainees will also teach another Community Class to the PYC pregnant students
Module 6- Final Exam and each trainee Teaching a 75 minute final class to the PYC community

In order to assure that all the teacher trainees receive personalized attention and sufficient time to develop their teaching skills, we limit the class size to 12 students. The teacher trainees will work among the seasoned community of teachers at PYC as the observe, take and adjust the pregnant students.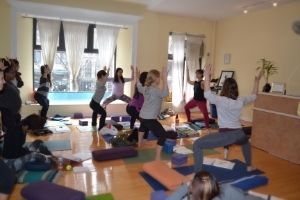 Yoga Alliance Registered Prenatal Yoga School
All current Yoga Alliance members who complete the 85 hour training are eligible for the RPYT (Registered Prenatal Yoga Teacher) designation from the Yoga Alliance.

In addition to completing the required 85 hour training, PYC Teacher Training graduates must complete 30 additional hours of prenatal yoga teaching.

If you have any questions regarding the RPYT application or designation with the Yoga Alliance please go to www.yogaalliance.org

Teachers
Deb Flashenberg, CD(DONA), LCCE, E-RYT 500
Caprice Abowitt CD(DONA). RYT
Terry Richmond CD(DONA), CCE
Clare Friedrich LCCE
Anne Heckheimer LMT

Fall 2015 Training Dates
Module 1: September 18 & 19
Module 2: October 2 & 3
Module 3: October 23 & 24
Module 4: November 6 & 7
Module 5: November 20 & 21
Module 6: December 4 (written exam)

*Friday evening sessions run from 6:30-9:30. Saturday sessions run from 1-8pm

Childbirth Education Dates:
Teacher Trainees need to attend ONE of the following weekends:
September 26th and 27th
October 17th and 18th
October 31 and November 1st
November 14th and 15th
*Class is held on Saturdays from 1-5pm and Sundays from 10-2pm
*Class is held on Saturdays from 1-5pm and Sundays from 10-2pm

BabybodyWork Dates:
Teacher Trainees need to attend ONE of the following workshops:
September 20th
October 25th
November 8
*Class is held on Sunday from 3-5:15

Upon successful completion, teacher trainees will be certified to teach PYC yoga and be considered for the PYC teaching staff. ONLY PYC certified teachers are eligible to teach at PYC.

Pre-requisite
Applicants MUST already have completed a 200 hour Yoga Alliance Yoga Teacher Training. Teacher Trainees are expected to already have obtained the knowledge of how to sequence a basic hatha yoga class, an understanding of alignment and be able to proficiently explain it, properly apply hand on adjustments and comfortably take the seat of a teacher. Please do not apply if you have not completed a 200 hour training.

Tuition |$1600

Tuition and Refund Policy
Full payment is due as indicated before the first day of the training.
A non-refundable deposit of $550 is required to hold your space in the program. The balance is due according to the tuition policy.
We accept cash, checks, Visa or MasterCard.
We charge a $25 returned check fee.
Make checks payable to: Prenatal Yoga Center.
Refunds are available up to three weeks before the training begins minus a $400 handling fee. After this time NO refund or credit will be given if you decide not to attend.
Once the training begins, if you decide not to continue for any reason, no refund or credit will be given.
All fees and schedules are subject to change without notice.

How to Apply
If you are interested in applying to the program, or in receiving updates about our next TT dates, please send an e-mail to info@prenatalyogacenter.com with 'Teacher Training' as the subject. You will be considered for admission into the program when we receive a completed application.